The universal storage system for order - distribution of novelties "1A Produktideen" (translation: 1A product ideas).
This website sets up a platform for a diversity of product novelties that have already been invented and will be launched during the next months of 2010. These are household items and innovative products which make life much more convenient and healthier.
The household article with multifunctional customer benefits
Keeping order with POS
... a household article for more than two dozen practical applications
For long-like objects which do not fit in a drawer
quick and systematical order :

in the basement

in the office

in the children's room

in the garage

in the storage room

in the atelier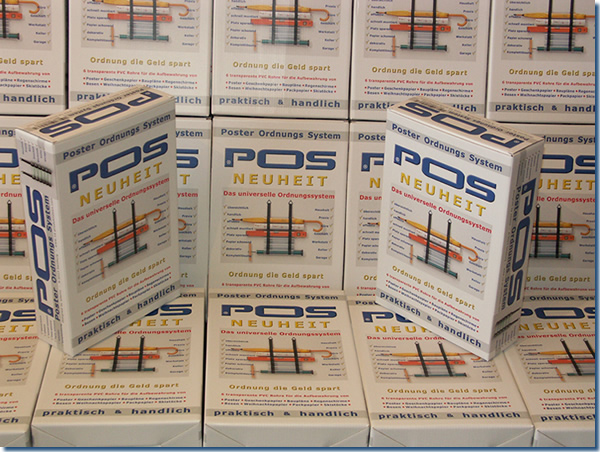 Now available at the best price of € 10,80 !
... suitable for promotional free gifts,  too!
In a smaller version this innovative article can be used for consumer promotion and customer loyalty.
It is an unusual advertising gift for companies who produce or deal in all kinds of tubes.
A household article for storing all kinds of rolls in the kitchen (like airtight bags, kitchenfoils, baking paper
and so on), the POS does a great job.

When this practical product novelty ist equipped with your company logo, your company will be remembered for many years by the recipients of the gift, whenever they put an object into the tube or when they take it out. Prices on request!
household articles, product ideas, storage systems and innovative product novelties

The universal storage system, the household article for the storage of all kinds of long-like objects, is protected by the council of the
European Union for the registration of trademarks and registered design in all the countries of the European Union - in the versions of angular
and round tubes. Reg. Nr. 001642083 - all rights reserved by René Adamo, Salzburg, Austria